Steel grating plate is made of flat steel in accordance with a certain distance and twisted square steel cross arrangement, with pressure welding machine or artificial welding. The surface after hot dip galvanized or plastic spray treatment, so as to achi

2021-09-17

According to preliminary statistics provided by the Brazilian ministry of development, industry and foreign trade, in December 2012 Brazil's flat steel exports totaled 208,581 tonne rising by 15.8% YoY and down 6.5% from November 2012. Brazilian flat

2019-11-06

Forbes reported that the Chinese economy is improving the nations leading steel companies reported profits in November for the first time in 4 months. Statistics from the China Iron and Steel Association showed that the biggest steel firms there have

2019-11-06

Indias minister of steel Mr Beni Prasad Verma congratulated the Indian steel industry on being the number one in terms of growth rate in steel production amongst the top ten steel producing countries. Congratulating the Steel Industry he said, I take

2019-11-06

The Express Tribune reported that gas shortages have pushed a number of steel mills in sectors I - 9 and I - 10 to using coal, increasing the level of pollution in the city. Mr Asif Shuja director general of Pakistan Environmental Protection Agency s

2019-11-06
India's minister of steel Mr Beni Prasad Verma congratulates Indian steel industry on best growth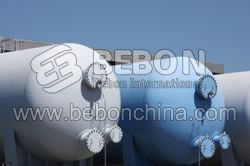 India's minister of steel Mr Beni Prasad Verma congratulated the Indian steel industry on being the number one in terms of growth rate in steel production amongst the top ten steel producing countries.
Congratulating the Steel Industry he said, "I take pride in announcing that the growth rate achieved by India is five times the world average growth rate of steel. I congratulate the industry stakeholders on achieving this feat and sustaining this remarkable growth."
Further exhorting the industry to step up its performance Mr Verma said, "Today, India is the 4th largest steel producer in the world. It is my dream to see India become the second largest in the world. All the main and major Public and Private sector steel plants must gear up to achieve this goal in the coming years."
During April to November'12, the Indian steel industry achieved a growth rate of 5.36% which was the highest in the world. During the said period China stood third with a growth rate of 3.36%. The World's Average growth rate of steel was just 0.97% during this period.