Steel grating plate is made of flat steel in accordance with a certain distance and twisted square steel cross arrangement, with pressure welding machine or artificial welding. The surface after hot dip galvanized or plastic spray treatment, so as to achi

2021-09-17

According to preliminary statistics provided by the Brazilian ministry of development, industry and foreign trade, in December 2012 Brazil's flat steel exports totaled 208,581 tonne rising by 15.8% YoY and down 6.5% from November 2012. Brazilian flat

2019-11-06

Forbes reported that the Chinese economy is improving the nations leading steel companies reported profits in November for the first time in 4 months. Statistics from the China Iron and Steel Association showed that the biggest steel firms there have

2019-11-06

Indias minister of steel Mr Beni Prasad Verma congratulated the Indian steel industry on being the number one in terms of growth rate in steel production amongst the top ten steel producing countries. Congratulating the Steel Industry he said, I take

2019-11-06

The Express Tribune reported that gas shortages have pushed a number of steel mills in sectors I - 9 and I - 10 to using coal, increasing the level of pollution in the city. Mr Asif Shuja director general of Pakistan Environmental Protection Agency s

2019-11-06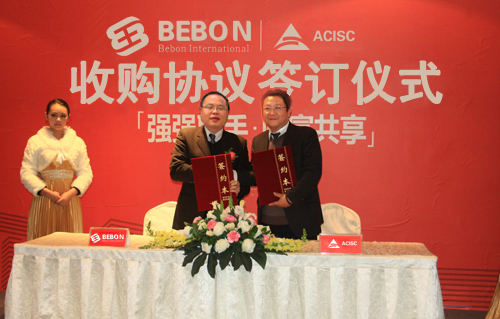 In order to creat the global brand and top-notch service, Henan Bebon International Co.,Ltd acquired Asia Construction Iron & Steel Co.,Ltd on 16th,Aug,2016. After research decision, Henan Bebon International Co.,Ltd is renamed HENAN BEBON IRON & STEEL CO.,LTD officially and the logo of BEBON upgraded to BBN from 1st, Jan,2017.
Henan BEBON Iron&Steel Co., Ltd , located in zhengzhou ,henan province of china, is specialized in manufacturing and exporting steel and casting product. Based on the domestic rich product resources and professional research on international market, BEBON'service has already spread many countries in Europe , America, Southeast Asia, Middle East, South America, Africa, and so on .
Oficina Dir: XICHENG SCIENCE & TECHNOLOGY BUILDING HIGH-TECH DEVELOPMENT ZONE, ZHENGZHOU, CHINA.
Post Code: 450001
Skype: bebonchina
E-mail: [email protected]