According to preliminary statistics provided by the Brazilian ministry of development, industry and foreign trade, in December 2012 Brazil's flat steel exports totaled 208,581 tonne rising by 15.8% YoY and down 6.5% from November 2012. Brazilian flat

2019-11-06

Forbes reported that the Chinese economy is improving the nations leading steel companies reported profits in November for the first time in 4 months. Statistics from the China Iron and Steel Association showed that the biggest steel firms there have

2019-11-06

Indias minister of steel Mr Beni Prasad Verma congratulated the Indian steel industry on being the number one in terms of growth rate in steel production amongst the top ten steel producing countries. Congratulating the Steel Industry he said, I take

2019-11-06

The Express Tribune reported that gas shortages have pushed a number of steel mills in sectors I - 9 and I - 10 to using coal, increasing the level of pollution in the city. Mr Asif Shuja director general of Pakistan Environmental Protection Agency s

2019-11-06

Bloomberg, citing 3 three people familiar with the matter, reported that Indias biggest steel producers are in talks to buy coking coal at the lowest price since 2010. The people said that they expect to contract the steelmaking ingredient at as low

2019-11-06
Indian steel producers to remain stable in 2013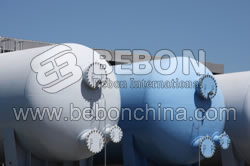 PTI quoted India Ratings as saying that it expects credit profiles of its rated Indian steel producers to remain stable in 2013, driven by continued albeit slow growth in domestic steel demand.
It said that the credit outlook for Steel Authority of India Ltd and Rashtriya Ispat Nigam Ltd appears stable in 2013. But the rating agency felt that the outlook appears negative for TATA Steel Ltd, Uttam Galva Steels Ltd and Usha Martin Ltd.
The agency said that "The majority of ratings are on stable outlooks and most of them are below IND BBB-, which reflects the inherent risks in the steel sector."
The ratings agency said that Indian steel producers increased prices by INR 500 per tonne to INR 1,000 per tonne in December 2012. India Ratings expects profit margins in 2013 to remain broadly similar to 2012 levels. This is due to the persistent high cost of steel production and steel producers' limited ability to pass on higher costs due to subdued demand from end-user industries. The margin pressure will be higher on the producers with no captive raw material linkages.
At the same time, the agency has cautioned that negative outlook may arise from continued weak macro economic environment in India which could adversely affect financial and liquidity profiles of issuers beyond that expected by the agency.
India Ratings said that "Steel producers may see a spurt in demand in the medium term if the Indian government implements its USD 1 trillion infrastructure investment plan in a timely manner. The demand for flat steel from automobile, white goods and capital goods sectors is likely to remain modest in 2013, given the continued slow economic growth."
The cost of funding working capital requirements remains high despite the marginal reduction in repo rate by the Reserve Bank of India in early 2012. India Ratings expects a gradual reduction in interest rates in 2013 which should provide some relief in interest costs.
Considering the modest demand scenario, a further rupee depreciation could pressurize the margins of companies producing flat steel through blast furnace route as bulk of coking coal is imported. This is despite import price parity of flat steel products.
Moreover, a weaker rupee raises the financial leverage of steel producers with significant un-hedged foreign currency liabilities resulting in a decrease in financial flexibility. However, the agency expects financial leverage of rated entities to remain within the guidelines stipulated for the respective rating category.
The statement said that "Even though this intervention bodes well for the domestic industry in the long-term, in the short to medium term, steel producers will continue to face inadequate availability of domestic iron ore and may have to import for meeting their requirements. India's steel making capacity is slated to cross 100 million tonne in 2013 which will require about 160 million tonne to 170 million tonne of iron ore. However, there could be a shortage of about 30 million tonne given the on-going challenges in the mining sector."